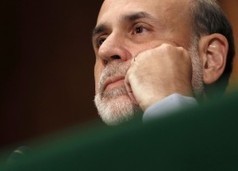 "But unlike Operation Twist, the size of a reverse-repo is not limited by the amount of the central bank's short-term holdings, the Journal said.
"Additionally, a reverse repo could be conducted with non-banks, such as money market funds, something that is seen as giving the Fed more flexibility in managing its reserves.
"Fed officials are mulling the costs and benefits of a reverse-repo, the Journal said. One downside could be higher short-term interest rates, which the Fed has pushed down to near zero.
"There is another downside to a reverse-repo, said Louis Crandall, a money market analyst with Wrightson ICAP LLC. On the one hand, the central bank has described a reverse-repo as a way to tighten credit; on the other hand, using it in combination with a bond-buying effort designed to ease credit, giving markets contradictory signals."