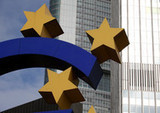 The European Central Bank's balance sheet surged to a record 3.02 trillion euros ($3.96 trillion) last week, 31 percent bigger than the German economy, after a second tranche of three-year loans.
"The balance sheet has swelled by more than 1 trillion euros since mid July as the debt crisis made banks wary of lending to each other, forcing the ECB to provide additional liquidity and step into bond markets with its asset-purchase program.
"The balance sheet records all the assets and liabilities on the books of the ECB and the central banks of the euro area, which conduct market operations on the ECB's behalf.

"ECB council member Jens Weidmann, who heads Germany's Bundesbank, said the unprecedented three-year loans are "at the limits" of the central bank's mandate and warned of "substantial risks," Spiegel magazine reported on March 3."
{Gee, I wonder where all that money came from?}