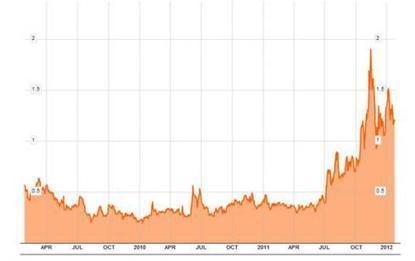 The Federal Open Market Committee meeting demonstrated it is going to doggedly pursue the same old, failed policies. This does not bode well for the US dollar. Got gold?
"While the euro crisis has taken a momentary breather, let's not forget the even bigger dangers on the horizon. We've all seen the spreads between the PIIGS and German bonds. Needless to say, they aren't pretty. But another chart is scaring me even more at the moment: It's the 10-year bond spread between Germany and France.
"The media always want to frame financial news in the classical sense: the good guys versus the bad guys. In this case, it's the responsible and prudent core of Europe versus the lazy and uncontrollable PIIGS. However, the chart above tells a different story. The crisis has reached the core itself. Rather than being an impenetrable fortress, countries such as France have their own problems.
"That should come as no surprise. The rest of Europe has been following the exact same path as Greece, Portugal, Spain, and all the other "bad guys." It's the same story of excessive spending programs, disastrous labor laws, and widespread government interventions. In fact, the European core must necessarily experience the same problems. If you're following the same stupid policies, you should expect the same bad results. It's logically inconsistent to think that certain policies are absolute failures in Greece while they magically work in France."
It would be worth your time to click over and read the rest of the discussion and the article on the Fed and its money printing actions.