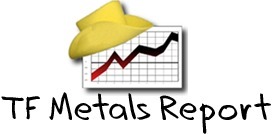 TF Metals starts this post: "I wasn't planning on making a new post this afternoon and time is short but I feel that we must discuss the completely bizarre and somewhat unprecedented open interest numbers in silver."
If that doesn't catch your eye than nothing will. Silver continues to be one of those metals where things just don't seem kosher.
Turd continues further down the post: "I had thought that the big rally last Friday would be proven to be primarily EE short-covering. Instead, the OI numbers showed an increase of over 2,300 contracts. Short-covering was prevalent on Monday as silver rose 60 cents but OI fell by 1,400 contracts."
If you follow silver I suggest clicking over and reading it all.