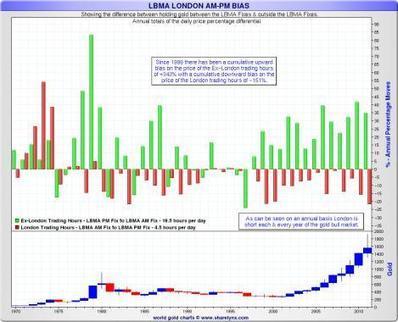 Ed Steer - "With the dollar down sharply during London and New York trading yesterday, I was more than disappointed that both gold and silver did not perform better.
"Here are three free paragraphs from silver analyst Ted Butler's weekend commentary to his paying subscribers.
"We've rallied around $120 in gold from late December on an increase of only 10,000 contracts or so in the commercial net short position. In silver, we've rallied a few dollars on about a 6000 contract increase in that commercial position. Considering that we were at historical lows in the commercial short position in each by many measures and still are, that's not too shabby. This doesn't mean we won't experience sell-offs and continued price volatility, but we are not close to bearish COT readings in gold or silver. In COT terms, there is plenty of room to run higher in price in both gold and silver. In percentage terms, of course, the biggest potential to run is in silver, in my opinion.
"Considering the technical clean out we've just experienced in both gold and silver over the past few months and the proximity of some key moving averages above current prices in each that threaten to be penetrated, it is not hard to envision strong price rallies. Of course, we are still discussing markets that are manipulated in price, so we must be prepared for anything. The best preparation is not to borrow or deploy margin.
"What next? Was the silver surge on Friday the breakout signaling much higher prices to come or a fake out designed to lead to lower prices and further disappointment? We can't predict the future with unquestioned accuracy; but we can prepare ourselves for it based upon the probabilities. Silver looks cheap based upon almost any measure except where it was priced 5 or 10 or 20 years ago. The COT set up looks better than I would have guessed several months ago. I never would have imagined in August and September that the commercials could reduce their net short position to the 20,000 contract level or lower. It took the most egregious manipulative sell-off for them to have accomplished that feat amid much damage and consternation to innocent silver investors. But perhaps it's true that what doesn't kill you makes you stronger."