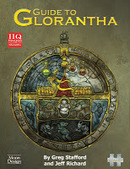 Here are the latest news with regard to theGuide.
First, Rick has posted the following to the backers:
Being larger sized pages [賈尼: the Guide will be a coffee-table book, larger than the usual 8.5 by 11 inches; I was told the exact dimensions, but since they were not in understandable SI units, I've already forgotten them], we have a number of new opportunities to present information visually. Even though we have a lot of text, we try to avoid just pages of columns. All of the new art and maps are beauties to behold, but we have a lot of pages to fill.