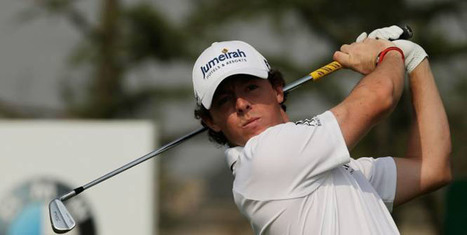 Posted by Benjamin Cadiou -November 21, 2012
"Rory McIlroy aurait pu débarquer lundi à Dubai comme un touriste. Fatigué, comme le prouve son cut raté à Hong-Kong la semaine dernière, déjà sacré n°1 européen avant même le Dubai World Tour Championship, l'actuel meilleur joueur du monde est en pleine phase de décompression. Après une saison complète (il est également vainqueur de la money-list américaine, ainsi que de l'USPGA, son deuxième majeur), le Nord-Irlandais de 23 ans veut quand même s'imposer cette semaine dans les Émirats, pour « finir l'année en beauté ».

Destiné à jouer deux ou trois tournois de moins l'an prochain, Rors n'en quittera pas pour autant le Tour européen, alors que dix de ses douze coéquipiers de Ryder Cup seront membres du PGA Tour 2013.

Une année « phénoménale »
« Je suis très fier de remporter enfin la Race to Dubai, pour ma 4e saison. Cela a été une année phénoménale, prouvant ma progression chaque saison. Je veux continuer de m'améliorer en 2013. Je peux, par exemple, donner plus de variété à mon petit-jeu. Cette année, j'ai bien réussi à faire tourner la balle de gauche à droite, c'est une nouveauté. J'ai pu chercher plus de drapeaux situés sur la droite des greens. Et pour les 7 ou 8 semaines de repos qui arrivent, je vais en profiter pour regarder mes statistiques, et voir ce que je dois travailler encore plus. »

La Race to Dubai, « une bonne formule »
« Si j'aimerais voir le format de la Race to Dubai changer ? Pas vraiment. J'ai très bien joué lors des play-offs de la FedExCup, sur le PGA Tour, et ça me fait un peu mal de ne pas m'y être imposé... Le circuit européen est une course, c'est une bonne formule."
...