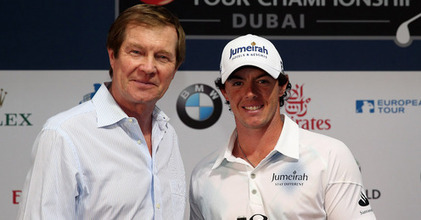 Posted on Golf 365 - November 20, 2012
"Rory McIlroy is confident that changing his Titleist equipment will not adversely affect his game.
The World No 1's impending switch to Nike as part of a deal said to be worth 250 million over 10 years means that this week's European Tour season-ending DP World tour Championship will be his last tournament playing with the equipment that has seen him make such a meteoric rise to the top.
While the likes of Nick Faldo have expressed concern over what effect such a switch could have, McIlroy is confident it won't hurt his game.
Asked by reporters in Dubai on Tuesday if he had any concerns the change could have a negative impact, McIlroy replied: "No, not at all.
"I think all the manufacturers make great equipment nowadays and it's all very similar - a lot of them get their clubs made at the same factories. I don't think it will make any difference.
"I'm still playing with my Titleist clubs - this is the last week - but I've tinkered about a little bit with the new ones, enough to feel comfortable going into next season."
Having already wrapped up the money lists on both sides of the Atlantic, this week's European finale has lost some of its potential interest, leading World No 2 Luke Donald to suggest recalibrating the money-list ahead of the tournament in order to keep the excitement going until the final event of the season.
McIlroy doesn't agree."
...