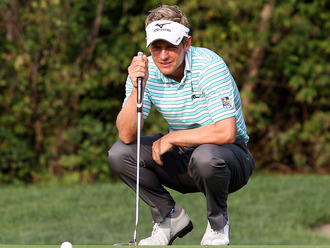 Posted on Orange Sport UK - November 20, 2012
"Luke Donald thinks a play-off system could add more excitement to the end of the European Tour season.
Donald hopes to end his golfing year with a bang this week - but has also given the European Tour something to think about.
After winning in Japan on Sunday Donald is in Dubai for the £6million DP World Tour Championship, the closing event of the European Tour season.
Yet with Rory McIlroy having clinched the European Tour money list two weeks ago, England's world number two said: "It's a little bit more of an anti-climax than probably the Tour would want.
"They may want to think about adding a scenario where that doesn't happen and incorporate either a play-off system or some other way to make sure that it does go down to the wire. I think that makes it more exciting."
The FedEx Cup play-offs in America are now constructed around a points system which means that no matter what happens in the first three tournaments the 10million bonus is still up for grabs in the fourth and final week.
This year, for example, McIlroy won the second and third legs, but it was Brandt Snedeker who lifted the trophy by winning the Tour Championship in Atlanta.
Donald remembers the pressure he felt under this time last year when he was trying to complete the same double of European and PGA Tour money lists that McIlroy has now emulated.
"Last year I felt I had a target on my back," he said before jokingly adding: "Thanks Rory for making my achievement look ordinary.
"Rory has made it look pretty easy. His consistency was unmatched by anyone."
McIlroy did, however, miss the cut in the Hong Kong Open last week while Donald was capturing the Dunlop Phoenix for his third victory of 2012.
"I knew it was always going to be tough to follow up last year, but I've still been successful.""
...