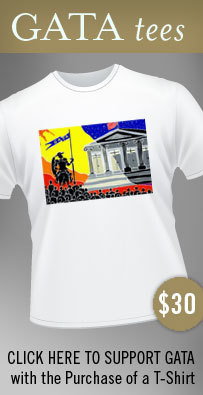 Dear Friend of GATA and Gold: On April 16, just hours after the smashing of the gold price by the dumping of so much gold and gold futures that it could have been instigated only by Western central banks, the Chinese government news agency China Network Television appears to have published a long commentary reasserting China's awareness of the constant efforts of Western central banks to rig the gold market by leasing gold. Diplomatic cables from the U.S. embassy in Beijing to the State Department in Washington, published by Wikileaks in 2011, extensively quoted Chinese government press reports from 2008 and 2010 about Western central bank efforts to suppress the price of gold to support the U.S. dollar:
http://www.gata.org/node/10380
http://www.gata.org/node/10416
What seems to be the new Chinese government press commentary, posted this week by the blogger Koos Jansen at his Internet site, also notes the difficulty of the German Bundesbank in retrieving the gold it has vaulted at the Federal Reserve Bank of New York. An Internet translation of the Chinese commentary that has been posted by Jansen is, predictably enough, largely incoherent, Chinese requiring a lot more massaging into English than computer programs can yet do well, but the translation is enough to show that China is scrutinizing the gold market, is familiar with the latest developments and details, and long has known exactly what is going on. Indeed, it may be suspected that China actually cooperated with the Western central banks' smashing of the gold price in April on the understanding that China then could join in the purchase of sharply discounted gold unloaded by panicked Western investors. The Chinese government also may have chosen April 16 to publicize Western gold price suppression to a domestic audience so that its own people would not be panicked out of their own gold. Of course the Chinese were panicked only into besieging gold shops to get still more metal. ...