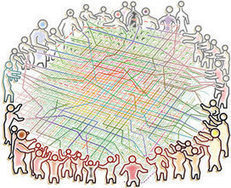 Join Our Email List:
https://lists.riseup.net/www/info/workersoftheworldGNUnion
is an idea. It is a collaborative effort and a swarm like social activity aiming to interconnect emancipatory cultures, individuals, institutions, visions, strategies and networks to each other. Global networked labour union is a living, conscious and shared map of locally grounded, translocally interacting autonomous collectivities (simultaneously in and between local, regional, national, continental levels) that are forming a global whole. GNUnion of the nodes, hubs and ties involved serves to generate healthier, stronger and clearer path to emancipation beyond capitalist mode of production without destruction.
We therefore invite peers who share the idea, to network and organize to stitch a global mesh-network by linking thier struggles, network bases and labour to each other. Our call is to all who strive for building dynamic, free, libre, and open source spaces, where our autonomous agendas, geographies and visions can interact and become collectivised bottom up manner. While each of which becomes more empowered to move further independantly, in an harmony.