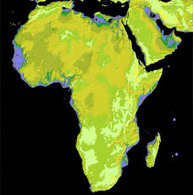 For international development organizations and professionals at institutions like the World Bank, every project and initiative has geospatial data. And yet this data will still gain significance in development policy and practice, because it can show the impact of projects given the contexts of climate change, urbanization, public health, and land use. Mapped data will particularly enable new resilience in the face of climate change.
The Bank uses geospatial data and owns a huge amount of it. Too often, however, the units that have produced geospatial data have had no choice but to relegate it to desk drawers, CD-ROMs, and inaccessible servers. The Bank has lacked a geospatial data repository, and there has been no central place to store and retrieve the data.
Now the Sustainable Development Network (SDN), one of the Bank's vice-presidential units, is launching a product capable of capturing, organizing, and assisting in the analysis of geospatial data. The tool, GeoSDN (http://geosdn.worldbank.org), offers the Bank a repository for geospatial data and a web interface that enables staff to access and analyze that data. In brief, GeoSDN offers a new capability for staff to leverage development datasets and to analyze them in the context of an online mapping tool.