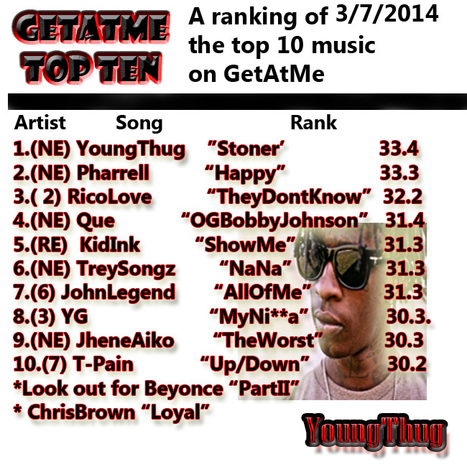 Ok here's the GetAtMeTopTenPowerrankings for 3/7/2014.
We start off with a surprise #1 YoungThug "Stoner" beats out Pharrell "Happy". Pharrell has a huge song but the club surgences for "Stoner" took it to #1. #3 RicoLove "TheyDontKnow" is still hanging in there as it dropped from #2 to #3 and Que's "OGBobbyJohnsons" radio play shot it up to #4. KidInk's "ShowMe" reentered due to strong radio play and now is a real contender for #1 at #5. TreySongz "NaNa" (we told you) shot up to #6. At #7 JohnLegend's "AllOfMe" (great song) holds at #7 dropping from #6. YG "MyNi**a" stays in the topten (what a storyt this song. It's like the energizer bunny, it just keeps on going.) #9 JheneAiko "TheWorst" comes in due to strong radio support (she has a crazy remix with Raekwon on it #BeOnTheLookOut) and at #10 T-Pain "Up/Down".
Beyonce's "PartII" and ChrisBrown's "Loyal" are the ones to watch.
Im ReggieRedd and #GetAtMe