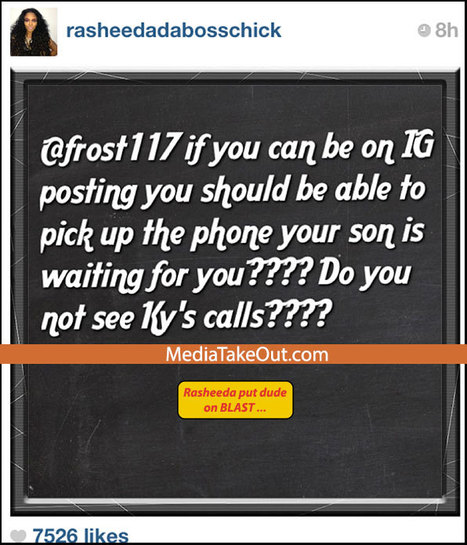 Man I watch Love And Hip Hop Atlanta and for the most part it makes for good entertainment. The only thing that's funny to me about the show is that none of these artist are selling any records. I wouldn't question none of this if Mona Scott wasn't supposed to be this so called power broker in the music industry. I mean she was supposed to have been the beast at Violator. Oh well I guess times have changed. Or have they? but that's another blog.
One of bad sidepoints I have seen on this show is how damaging this show has been to some peoples relationships. I don't know Kirk or Rasheeda but from what I've heard from many that both people are really cool. This show has been a disaster for their relationship (so it seems), and LHHA may be one of the real catalysts for this relationships destruction. I probably wouldn't be saying anything about this but it seems that Mrs Scott has no care that not only is she destroying the culture of hip hop with these shows but also friendships and relationship. Is realityTV worth the reality of detroying friendships and relationships.
I'm sure that there are many things that the public doesn't see in Kirk's and Rasheeda relationship but I can say without a shadow of doubt is that LHHA didn't help. I really hope that 2 friends like Rasheeda and Kirk can survive this sideshow called LoveAndHipHop.
I really hope that they can snap out of the mist of realityTV and come back to reality and mend their friendship first and then their relationship (I guarentee you Mona could give a shit about your relationship or your friendship.)
In New York it's all about who you know and your brand (Brand that's the stupidest shit I've heard of when it comes out of the mouth of someone who ain't sold shit and is using the term to get in parties) But here in Atlanta (especially during the Bass Music era) it was about selling in the stores and now we don't have the stores no more it's harder for the indie southern acts to sell in traditional platform. Now we're just left with mixtape sales. Which was always a complaint from the people from New York (like they owned hiphop or something). You see nothern acts and label exec (if they were to be honest) have never really liked that southern acts didn't need their promotional machine. 1 its to expensive and 2 its two politicized. Why would I want a hit if it was going to cost me my soul to get it.
When Kirk was releasing Rasheeda as a dance act, she was booming. It's when they started hanging with these machine n*ggas that not only did they lose traction as an artist but also in their relationship. Kirk man go find DJ Toomp or ShortyRed or Mike Fresh Or DJ Herb or DJ Hershey OR Nitti and get your girl a hit and quit letting realityTV take oiver your REALITY.
I'm ReggieRedd and That's RealTalk