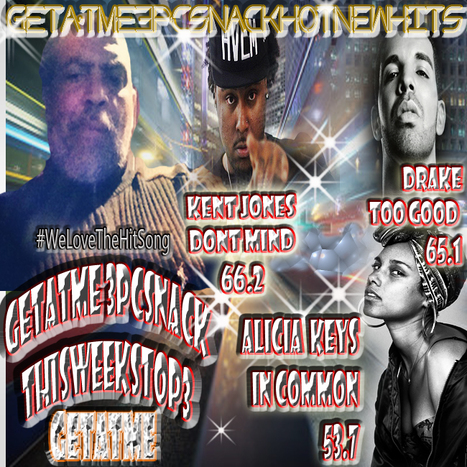 Okay here's this week's GetAtMe HotNewHits. These are cut that we handicap to be the next hits. We score them by the track, demographic, market potential, the song and the hitfactor. We add all the different scores to get our score. Here's the stats:
Kent Jones DON'T MIND 66.2 score grade B This cut has had the great fortune of good timing (its in a great mix set area…). After WORK by Rihanna and ONE DANCE by Drake, this cut was set up to win with a pop/dancehall style (great records for the summer pool parties and cookouts…). This song scored highest in the track category (15 pts out of 20 pts) and the hitfactor (15.2). Like I said the timing on this cut was key... #Hot
Drake TOO GOOD ft Rihanna 65.1 score grade B. This cut is so hot but it seems to be some confusion at the label. It seems that they are really trying to drive CONTROLLA (you might win a segment of the djs with CONTROLLA but TOO GOOD with Rihanna is a gimmie with the girls and last time I checked Drake's core buyers are women #IJS). This is a great song and it would be a shame to lose it in a clutter of new Drake cuts. It seems that Drake has outgrown hiphop and hip pop is a comfortable place for him (maybe he just like diss records and beefs in the hiphop genre #lsmh). Drake is gonna be massive in the hippop area. Hopefully that will be his choice. This song scored highest in the track (14pts), song (14pts) and The Hitfactor (15.1 pts). Drake has a solid cut here (like I said with Rihanna this should be a gimmie…).
Alicia Keys IN COMMON 53.7pts score grade C This cut should be a smash. The only thing that's gonna hurt this cut will be the licensing folks and marketing people playing territory games (so if it flops Alicia, you'll know why). This cut could definitely blow up due to covers on youtube, covers on vine, dj mashups and remixes. The marketing companies at times play territory games and the licensing people are just on some some really out of the loop next universe thing when it comes to online fans. Here's the real issue 1. Many of the fans are better at creating viral content than the pros that the labels hire and they have the army of followers (not fake followers and reviewer like many of the marketing companies employ. Here's a note, the fans know that the threads and review sites are bought and really don't pay" the for pay for play trolls" any attention. The fans have their own ideas and opinions #frfr). Also the fans do it out of respect whereas the professional fans do it for a check #NotTheSameLove. If the label would get the licensing groups off of youtube with licensing strikes, the fans would do covers and their fans and friends will become engaged with the new songs and they would viral (so by telling the fans, "hey don't do covers and mashup because we feel you're making a little money with youtube (and I do mean little), you honestly think that that's gonna inspire fan engagement and fan loyalty. Is it really gonna encourage fan to buy (would you if as a fan someone pissed you off)? Let them get the youtube money and I guarantee it, they'll have no problem skinning down $1.29 for your new cut. This is a great song and for no reason should this song fail. Djs are gonna love remixing this cut (a real key metric in breaking todays cuts are how many djs are making remixes for the cut (these guys don't want the professional remixes, they want their own mixes or one of their peers (#IJS). This song scored highest in the track (13pts) and the song (12pts). This should be smash for Ms. Keys. It really should..
That's this week's GetAtMe HotNewHits. Our top cut this week is Kent Jones DON'T MIND.
#ItsAboutTheMusic
#GetAtMe