Scoop.it!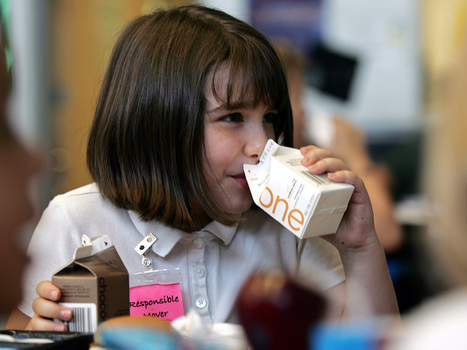 By adding artificial sweeteners to flavored milk, the dairy industry hopes to boost flagging consumption in schools.
Via
Seth Dixon
Courtney Burns's insight:
In my opinion I believe that the milk companies are trying to add sweeteners to their products in order to increase sales. So many drinks now are containing such things as aspertame. However I don't agree with putting it in a childs milk unless it is made known. I understand the milk company's argument that no one else has to put it on the front of the label, but I think that is because those products were not known to be made without aspartame so most people consuming the product would check. However in order for milk to keep up with competitors it has to take a step in the direction of adding sweeteners to their products. However I think they should have to state artificial sweeteners on the front of the product if it is still called milk. However if they change the name to something other than milk then I would say it would be fair to put artificial sweeteners on the back. Kids comsume drinks all the time with artificial sweeteners, so I still think milk would have sales if people knew there were artificia sweeteners in the milk. But trying to hide it is unfair. People should be made known what they are consuming in their milk, especially since it has been around for so long and is considered a healthy choice for kids. Lastly I think if such a product is put in schools that kids should have the choice between regular old fashion milk and the artificially sweetened milk.