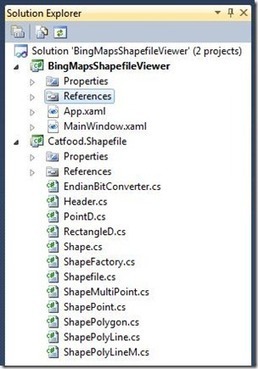 In last week's blog posts I talked about several different ways of overlaying ESRI shapefile data onto Bing Maps. In this post, I will walk through how to develop a simple application for loading a locally store shapefile onto the Bing Maps WPF control using the ESRI Shapefile Reader CodePlex project.
Creating the project
First, you will need to download the ESRI Shapefile Reader project. Once this completes, you can unzip and run the Visual Studio project. You will notice there are two libraries in the project. The first is called Catfood.Shapefile; this is the main library that has the logic for reading and parsing Shapefiles. The second is just a basic application for reading some metadata from a shapefile. We are really only interested in the first project.
Open up Visual Studios and create a new WPF application call BingMapsShapefileViewer. Next, right click on the solution and add an Existing project. Locate and add the Catfood.Shapefile project. Next, right click on the References folder of the BingMapsShapefileViewer project and add a reference to the Catfood.Shapefile project. Your solution should look like this:....