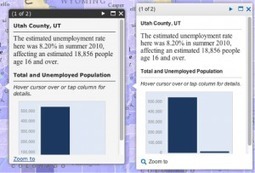 Want to make a beautiful pop-up to match your map or website? With a little elbow grease, CSS, and a keen eye for design, it's easy. Here's how you can skin the ArcGIS API for JavaScript pop-up widget.

The pop-up widget provides an attractive user interface for displaying information about a feature or set of features on a map. In this post, I'll be showing how to improve the default popup style (shown at above left) using my own color scheme and icons (shown at upper right).

Before we get started, you can view the finished pop-up style or grab the code.
You haven't created it yet, but you need to name your masterpiece theme. The theme name will be assigned as a CSS class. I've named my custom theme "modernGrey," but you can define your own like "blueSteel" or "magnum". Make sure it doesn't have any spaces or symbols.
Next, we need to create a style sheet for the new pop-up styles and link it in the head of our HTML document we'll be embedding that killer webmap in.
<link rel="stylesheet" type="text/css" href="css/modernGrey.css">
Grab the CSS that the pop-up widget uses from the API URL. The CSS from the API is minified to reduce file size. You can make it readable by using a site like cssbeautify.com.