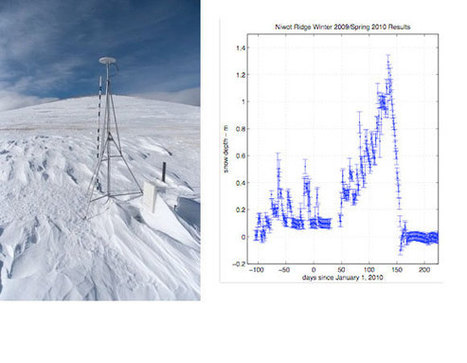 UNAVCO, a non-profit university-governed consortium, facilitates geoscience research and education using geodesy.
"Researchers at the University of Colorado Boulder and the University Corporation for Atmospheric Research have been using what is typically considered an error in the GPS signal to measure snow depth around GPS receivers. A GPS receiver records both direct and reflected signals from a satellite. A reflected signal bounces off of whatever is around the GPS station before being recorded, and therefore can contain information about the ground surface close to the station.
Traditionally snow depth has been measured by hand. In other words, someone had to go out with a measuring stick to whatever location they were interested in. GPS snow depth measurements solve both of these problems: once a GPS unit is installed, it can function on its own throughout the winter, and will make a measurement every two hours, which is then averaged for a daily position, or in this case, snow depth."
Tags: GPS, climatechange, water, technology,