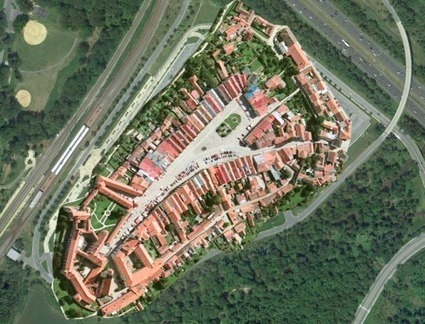 If we built village of small streets today, where would we locate it?
One great candidate would be a park-and-ride lot, which is parking located next to a subway or commuter rail station. Such parking gets some to use public transit who wouldn't ordinarily...
But that's just the problem: the people who use park-and-ride lots don't ordinarily take transit. The reason they have to drive to a train station is that they don't live near it. That's why building new neighborhoods next to transit (called transit-oriented development in planner lingo) has become popular in the last 10 years.
If we built a small streets village next to transit station, then we'd have a whole village of people who could use transit for all of their trips longer than a walk or bicycle ride away.
There are countless park-and-ride lots to consider, but we'll look at just a couple. Greenbelt Station is located in Maryland at one end of Metro's Green Line, which goes through Washington, DC and back out to Maryland. If you've ever hopped a ride on the Bolt Bus from New York City or the bus from BWI Airport, you may have visited this station...
Via
Lauren Moss