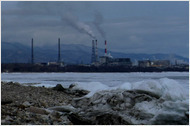 Workers at an ailing paper mill in Siberia are clinging to their jobs in the face of financial pressure and criticism from environmentalists.
The environment, industry and politics play key roles in this story of an old style Soviet mono-town on Lake Baikal. Monotowns had planned economies that revolved around one industry and today many of these are struggling in the post-Soviet era. While the particulars of the political situation are a bit dated, the overall issue is still quite relevant to understanding Russia today.
This video provides a clear picture of lasting effects of post-Soviet times. The Siberian mill was at one time a central industry town. Now that the industry has slowed down, it is becoming criticized for its environmental flaws. Environmentalists want to close the factory down, however there is a society of workers who are soley dependent on their jobs here. Through the transition from communsim to capitalism many factors need to be considered. The factory is causing a great deal of harm to the environment and the health of the people, however to just hut it down would disrupt the stability of the people who work there. Elizabeth Allen
Tags: Russia, industry, labor, environment, economic, water, pollution, environment modify, unit 6 industry.
Via
Seth Dixon