Scoop.it!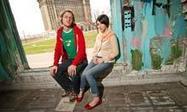 As hi-tech firms spring up in areas better known for destitution and drugs, Detroit has found something new: optimism
Artur Alves's insight:
Beyond the industrial crisis: the rejuvenation of Detroit rests in the hands of young entrepreneurs looking for a place to start new ventures without the crushing costs of traditional high-tech hubs:
"Yet the tech boom is a cause for optimism, and not just for the urban pioneers swapping San Francisco, Seattle and New York for the Rust Belt. Rich Feldman, a local activist, lifelong Detroiter and former car-worker believes tech can help the community too. He is helping to set up the Detroit Centre for New Work, aimed at harnessing new technologies, especially 3D printers, to enable people to work in different and more sustainable ways. It will look at helping people to make their own clothes or to create energy for their homes and workplaces. The goal will be a self-sufficient, local and modernised economy. For Feldman, who spent three decades at a car plant, the project has seen him become fluent in a whole new vocabulary. "Technology can be used for community development, especially when it comes to things like digital fabrication," he said."