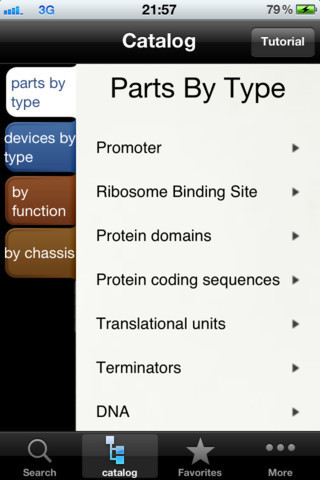 The era of Partsregistry on mobile phone has arrived! With Biosearch on your iPhone, you can now check biobricks and partsregistry in the seminar room; You can design your genetic circuits when you are waiting for a bus! Biosearch is fully interacting with Partsregistry, http://partsregistry.org, and has all parts information of Partsregistry database with enhanced user-friendly interface.
Biosearch has a powerful search engine. Users can search parts and devices by type, by category, by keywords, etc. Our online survey shows that Biosearch has major improvement in search result ranking. In addition, our iPhone App has new functions including sharing, rating, adding bookmarks and downloading to local system. These new functions shall promote the communicating and sharing between synthetic biologists. The Biosearch is going to be available on Apple Store and is free to use. http://itunes.apple.com/us/app/biosearch-for-synthetic-biology/id563225680?mt=8
Biosearch:A Portable Synthetic Biology Research Tool
With Biosearch, users can find and check the information that they need much more quickly and conveniently, free from the constraints of the network conditions and location restrictions. Researchers can build their biobrick framework anywhere, anytime.
At the same time, in Biosearch, on the 'more' page, there is a 'learn!' part. In this part, there are 'Synthetic biology', 'Assembly' and 'Parts'.In 'Synthetic biology', the part shows the user 'What is Synthetic Biology' and 'Why Synthetic Biology base on standard parts'. This part is very useful for the freshman. Users can quickly introduce synthetic biology to the novice and people interested in it.
thanks to
http://www.scoop.it/u/socrates-logos
for this post http://www.scoop.it/t/synbiofromleukipposinstitute/p/2869748248/app-shopper-biosearch-for-synthetic-biology