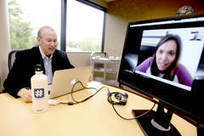 Jeff Hyman of Deerfield created Retrofit, a customized weight loss program that uses Skype and other technology to encourage people to develop new behaviors over time.
Retrofit assigns all clients a dietician, an exercise physiologist and a behavior therapist that all help the client work toward a realistic goal. The 65 weight loss experts, who are scattered around the country, meet with clients via Skype every week for ongoing consultation.
As part of Retrofit's program, clients are provided with a wireless activity tracker that tracks steps taken, calories burned, sleep patterns and other factors involved in weight loss. Clients are also provided with a Wi-Fi scale with similar software ability. The weight loss expert can track a client's progress through the software.