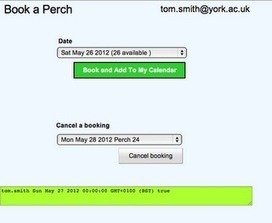 "Given the swingeing criteria in my first post, I decided to start by creating the simplest interface I could.

I began with a simple database of Perches in a spreadsheet and then in the Script Editor created a rough GUI with a couple of dropdown menus, and a couple of buttons that I would fill with data from the a mixture of a Perches calendar and this spreadsheet.

I decided not to keep track of bookings in a separate spreadsheet, simply because this felt like it would just be a whole heap of work. I would just use a calendar to store bookings. The guest of each event would decide who's booking it was."