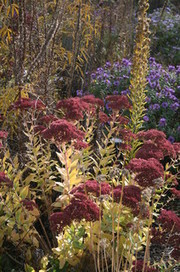 Trees haven't cornered the market on autumn splendor. Add these flowering perennials for a foliage sight to behold.
Perennials that have lovely fall foliage give the landscape a carpet of color that matches the canopy in the trees above. That mix of low color and high color will give you the feeling of being surrounded by a rainbow every fall (or being stuck in a Skittles commercial). The trick for the best color punch may be to mass the perennials, which tend to be smaller in stature, airier and less full than a tree.
Follow the photo-link to find a list of great fall perennials.