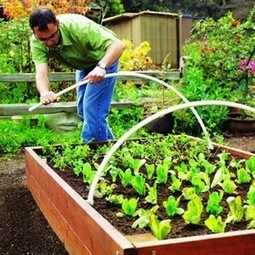 Raised beds are an easy and attractive addition to make to one's garden! Learn here some ideas on how to best integrate raised beds into your garden!
Gardening in raised beds has many benefits for your garden. Raised beds create great drainage, and make it easy for you to adjust soil composition. They will also your soil warmer, meaning that you can plant your plants earlier in the season.
Best Raised Bed Gardening Ideas: Preparing the Space
Building your own raised beds for your garden is fairly easy, and can generally be done in a few hours. Here are some ideas and tips for how to prepare your garden to for raised beds.
Remove sod and weeds from the planned raised bed site before placing the beds thereLayer the bottom of the site with landscape fabric to keep pests outOrient your site north-south in order to maximize sun exposure, and plan to plant your taller plants on the north sideMake sure the site for your raised bed is fairly level, and will allow for drainage away from the container
Best Raised Bed Gardening Ideas: Building Raised Beds
Raised gardening beds can be made from wood (pine or cedar), stone, concrete, logs or even just dirt. Depending on what materials you already have and what you need to buy, making a raised bed can be inexpensive or up to a couple hundred dollars.
The raised bed can be any size you want, so long as there is at least 6" deep of space for plant rootsFor wood beds, make 4 sides of multiple 2×4 (or any size) boardsMake 4×4 (or any size) posts for the inner corners to help hold the posts together; for whatever size you use, make sure your posts are the same height as your sides.Use wooden screws to hold your raised bed together
Best Raised Bed Gardening Ideas: Soil & Irrigation
Many people tend to set up a drip system for their raised beds so they don't have to worry about watering them daily. Here are ideas for how to deal with soil and irrigation in your gardening beds.
Fill your raised bed with quality soil up to about an inch under the top edgeMix compost into your soil to improve soil nutritionVermiculite can also be added to help with water retentionUsing a garden hose is fine for watering plants, though it can be time consuming and wastefulA more economical option is a drip system, which involves small tubes that are placed throughout your beds that will slowly water your plants
Building raised beds in your yard is easy and beneficial for your garden!
http://www.gardening-experts.com/raised-bed-garden-ideas/
Via
Giri Kumar