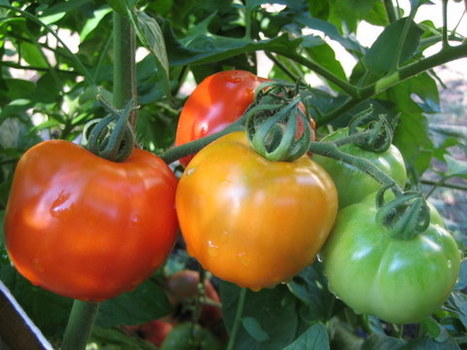 I just ate a vine ripened tomato from our garden. There is nothing better! Ripened to the peak of enrichment a vine ripened tomato is perfection in juiciness, taste and nutrition. Why more people don't at least use their patio or window sill to grow something so fresh, so nutritious and so enjoyable to eat is beyond me.
The concept of a local contract farms seems to me the way to go. We're presently planning to use a local contract farm where you buy a share of a crop or an animal and share your specifics of a farm fresh free range green fed raised animal. The contract farm we're looking to use is too far away to visit and pick farm items up at the farm so we found a farm that delivers to different locations around our state. The location we're going to use is Evansville Indiana as our homestead is 30miles from Evansville.
Evansville is the local "big city" so we shop in Evansville often. It's great to visit the big city yet live in a small town [ok our small town is officially listed as a city as well, however we dont have skyscrapers and our homestead is right beside a farmer's field so we consider ourselves a small town].
We are the last house on our street that runs north and south. North of us is farmland. The city line ends after our property so the farmland is outside our city limits. East of us is also farmland which happens to be owned by the same farmer that owns the farmland to the north. :)
We live on 3/4 of an acre with trees on the parameter of the property on the north, east and south sides. The east side faces the street and has a couple of maple trees. Otherwise the east side of the property is open.
Sitting out in the back yard feels like being in a meadow surrounded by forest. A young fawn entered our yard the other day. My wife was able to get within ten feet and admire the beauty of a wild animal. Of course wild rabbits, squirrels, song birds, raccoons, even chipmunks, frogs, toads, lizards, snakes, box turtles call our back yard home. We keep a portion of the yard wild for the wild life. The deer like the apple tree and the crabapple tree. So do the squirrels and many of the other wild animals. We're currently under going new landscaping for wildlife where we're replacing energy consuming plants with plants that deliver shelter, winter food and are native to our area. Highly recommended endeavor. ;)
I bought some wild milkweed seeds to plant in the spring for monarch butterflys. Monarch butterflys need milkweed plants. One type of milkweed plant serves as the host for the eggs. The second type of milkweed plant serves as the food supply for the young caterpillars. Exciting to be helping wildlife and replenishing the native plants and habitat we humans have thoughtlessly destroyed. :)
Till next time..
Take care, be well