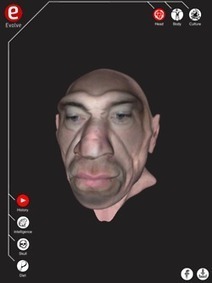 We've tweaked the calculations for how you get evolved. You'll now look more well… you-like.
-For best "Evolve Yourself" results, we've added a handy light-meter. Hint: It's at its best when you can find a dark environment. Your nearest cave will do nicely.
Popular Science evolves you into one of eight hominids, from Australopithecines to Neanderthals. Take your own Photo and the newest 3D scanning technology shows you what you would have looked like Millionsof years ago. Evolver reveals what your life would have been like, with amazing art and photos and the most recent research from the top experts.
*How strong were you? As Homo heidelbergensis, you could have stabbed a rhino to Death
*Were you on the menu? As Homo floresiensis, you lived in mortal Fear of the deadly Komodo dragon.
*How Smart were you? As our earliest ancestor, Ardipithecus ramidus, you were barely brighter than a chimpanzee. (But you could have ripped a modern human's arms off.)
""An amazing new look at how incredibly lucky we are to be who we are today. Truly transporting."" - Jacob Ward, Editor-in-Chief, Popular Science"