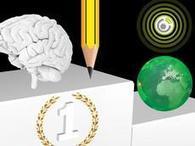 We congratulate our colleagues at the EPFL on their triumphant Human Brain Project," comments ETH Zurich President Ralph Eichler in response to the results. The Executive Board of ETH Zurich hails the excellent result of the flagship finalists as a great overall achievement for Swiss research.
"The researchers involved have invested a huge amount of blood, sweat, tears and work in these projects alongside their numerous other duties and that merits a great deal of respect," adds Roland Siegwart, Vice-President of Research and Corporate Relations at ETH Zurich.
While the champagne corks pop elsewhere, Dirk Helbing is disappointed with the elimination of "FuturICT" but not contrite.
All the work of the last few years has not been in vain, says Helbing, as it gave rise to a number of interesting ideas and collaborating with enthusiastic colleagues was "one of the best experiences I have had in my life".
Thanks to the project, an international science community emerged, which broke down the barriers between computer science, social science and complexity research seriously for the first time.
Hopefully, the FuturICT idea will find its way somewhere else.
However, it does raise the question as to whether Europe is able to take the lead or should leave it to the fertile ground of America or Asia.
"They are already working flat out on rival projects there," says Helbing.