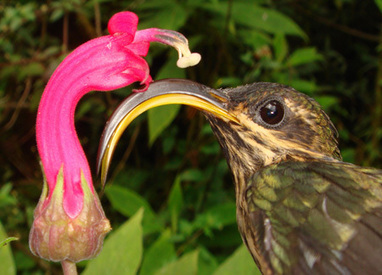 Hummingbirds are the smallest birds and the smallest warm-blooded animals on Earth. They have the fastest heart and the fastest metabolism of any vertebrate. They are the only birds that can fly backward. And according to a new report they also have a complicated evolutionary history.
Researchers constructed the family tree of these nectar-eating birds using genetic information from most of the world's 338 hummingbird species and their closest relatives. They say hummingbirds can be divided into nine groups, with differences in size, habitat, feeding strategy and body shape.
The common ancestor to all species in existence today lived about 22 million years ago in South America, several million years after hummingbirds were known to be flourishing in Europe, they write. Today's hummingbirds are found only in the Americas.
They boast a unique set of capabilities, says University of New Mexico ornithologist Christopher Witt, one of the scientists in the study published in the journal Current Biology.
They can hover stationarily or move in any direction with precision, even in a strong wind. They also have the highest rate of energy consumption per gram of any animal. Hummingbirds come in a spectacular range of colours, with males more colourful than females. They often have green feathers on the body, with the head coming in "virtually every colour you can imagine: gold, red, blue, purple, magenta, often iridescent," says biologist Jimmy McGuire of the University of California, Berkeley, who led the study.
Molecular phylogenetics and the diversification of hummingbirds (Current Biology, April 2014)The McGuire lab
Via
Dr. Stefan Gruenwald