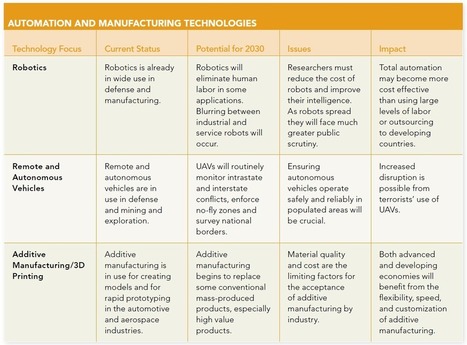 The National Intelligence Council has issued Global Trends 2030: Alternative Worlds, intended to stimulate thinking about the rapid and vast geopolitical. The report sees four megatrends:
Individual empowerment will accelerate substantially during the next 15-20 years owing to poverty reduction and a huge growth of the global middle class, greater educational attainment, better health care, and widespread exploitation of new communications and manufacturing technologies. Enabled by communications technologies, power will shift toward multifaceted and amorphous networks that will form to influence state and global actions.
Diffusion of power among countries will have a dramatic impact by 2030. Asia will have surpassed North America and Europe combined in terms of global power, based upon GDP, population size, military spending, and technological investment. China alone will probably have the largest economy, surpassing that of the United States a few years before 2030.
Demographic Patterns: in the world of 2030—a world in which a growing global population will have reached somewhere close to 8.3 billion people (up from 7.1 billion in 2012)—four key trends will be aging—a shrinking number of youthful societies and states; migration, which will increasingly be a cross-border issue; and growing urbanization, which will spur economic growth but could put new strains on food and water resources.
Growing Food, Water, and Energy Nexus: Demand for food, water, and energy will grow by approximately 35, 40, and 50 percent respectively owing to an increase in the global population and the consumption patterns of an expanding middle class. Climate change will worsen the outlook for the availability of these critical resources.
Via
Denis Pennel
,
HR Trend Institute