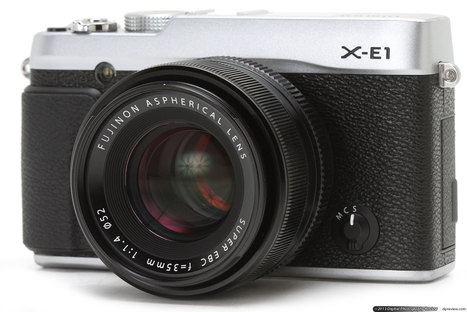 Conclusion
Pros
- Unique camera design makes you want to take pictures
- Excellent JPEGs, little need to shoot raw most of the time
- Reliable metering and AWB systems, good color (with choice of 'film modes')
- Dials for exposure controls allow for easy check of settings by glancing at the top deck, particularly with prime lenses
- Impressive image quality at all ISO settings - good resolution and low noise
- Built-in flash is handy for fill lighting in a pinch
- Film-simulations offer quick access to different color modes and black and white filters
- Use of electronic viewfinder simplifies interface while maintaining most important features
- Quick menu gives fast access to most digital controls not covered by dials or buttons
- Built-in level helps when capturing landscapes
- Various bracketing modes are easy to set via the Drive button
- Relatively quiet shutter
- Excellent available prime lenses
Cons
- Built-in level isn't always as accurate as we'd like
- Relatively slow AF makes photographing children more difficult
- Framerates in continuous shooting mode aren't completely consistent
- Camera disables RAW shooting without warning in some bracketing modes
- Relatively low-resolution rear LCD compared to some peers
- Panorama mode can result in visible banding in plain tonesAuto ISO often chooses too slow a shutter speed (specifically problematic with the longer primes)
- Minimal control available in video mode
- Continuous drive mode saves files with a different name, sorting them to the bottom
- Large and chunky build won't suit everyone
Overall Conclusion
There's a lot to be said for form as well as function and there's no question the Fujifilm X-series cameras elicit a certain response from those of us who enjoy both photography and well-built gadgets. What's great about the X-series cameras and lenses is they don't just look like old photographic tools, they integrate digital and analog controls very successfully. Also, the old-style analog dials are really excellent ways of helping conceptualize things like shutter speed and aperture, the two main elements of photography one has to understand to use cameras effectively. Those who already understand the concepts generally have no trouble understanding numbers on an LCD, but those who are learning can benefit from seeing the numbers laid out in a linear fashion; and the truth is I still find it helpful to turn a dial to adjust aperture, as I can do with the X-E1. For beginners, having that dial wrapped around the lens completely differentiates it from the body-bound shutter speed dial. When using one of the XF prime lenses, the main photographic interface elements are right up front and visible, in the form of physical dials. Photography students would do well to secure a prime lens for this reason (as well as others).

Kit lens users will have to pay attention to the numbers on the LCD.
But that's not all Fujifilm did right with the X-series cameras. Their simple button arrangements also make accessing common functions convenient. Important functions like Drive mode, Exposure, and Autofocus are dedicated to three buttons left of the LCD - a good position to adjust each setting. At first having a button for Drive mode seemed unnatural compared to a dial, but Fujifilm's inclusion of fast access to bracketing modes made those even more useful. The Quick Menu allows access to almost all the other important adjustments the average still photographer will want to make, including things like ISO, resolution, and aspect ratio. Only one analog control needs fixing: the somewhat loose Exposure Compensation dial, which can be rotated accidentally, both in the hand and when being carried around or put in and taken out of a camera bag. Of course, the elephant in the room is video. Although the X-E1's design philosophy is based around giving you all the direct manual control you could ever need, this does not apply to video, which overall seems as much of an afterthought as it is in the X-Pro 1 and X100. For now, the X-series is simply not competitive with its peers in terms of video functionality. As impressive as the Hybrid Viewfinder is on the other cameras in the X-series, the X-E1's electronic viewfinder is excellent. Compared to the X-Pro 1's finder in electronic mode, the X-E1 offers a better and higher-resolution image, but of course it can't pull of the X-Pro 1's impressive trick of switching to an optical view for those times when you want a literal 'window' on the world in front of your lens. The X-E1's EVF cannot replace the X-Pro 1's OVF but if you don't really need or want an optical finder, the X-E1 is clearly a better choice than the X-Pro 1, thanks to its superior EVF and lower overall cost.