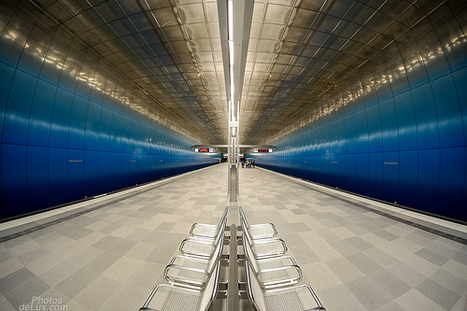 APS-C cameras used to have a few drawbacks compared to full frame cameras:

1. The smaller sensor produced noisier photos at high ISO and lacked dynamic range.

2. It is more difficult to produce a photo with shallow depth of field.

3. Due to the crop factor it was difficult to get a good quality ultra wide angle lens with a larger field of view than 120°

The introduction of the Fuji X-Pro 1 solved No. 1. for me right away. And while No. 2 is based on a law of optics I have found my way of dealing with it by changing my approach on taking those kind of images.

That left No. 3 still to be desired.

I have a Canon EF 15mm fisheye lens for my full frame camera, but when I connect it with an EOS-XF adapter to my X-Pro 1 the APS-C sensor size reduces the effective field of view to about 85° - or the equivalent FOV of a 23mm lens on a full frame camera. Fuji's currently widest XF lens is the XF 14mm f2.8 with an effective field of view of 90° (equivalent FOV of a 21mm lens on a full frame camera) - and while this lens seems to be very impressive (it is my next review on the list), I had to look elsewhere to go much wider than 90°. My research led me to the Samyang 8mm f2.8 fisheye lens for the Fuji XF mount. The lens promises an effective field of view of 180°! Samyang is a Korean manufacturer and this particular lens is also branded as Rokinon, Bower and Walimex 8mm f2.8 lens and also available for different camera manufacturer mounts.

Throughout my photography career I have had mixed results with 3rd party lenses and ended up staying with the known "big" brands from the respective camera manufacturer. But due to the lack of alternatives and a reasonable street price of around EUR 300 in Europe or USD 300 in the US, I wanted to give the Samyang a try.


After all, a fisheye lens is a specialty lens that should not be overused or you (and your audience) will soon get bored/annoyed by the effect it produces. And I can almost promise you that you will get tired of it after you see all the images in this post, too - so always use a fisheye lens wisely ;)

When the Samyang 8mm f2.8 lens arrived I was surprised! It is small yet very heavy. Compared to the Fuji XF 18mm f2 the Samyang is about the same size but a bit over twice as heavy (116g/4.1oz to 260g/9.2oz)! What did they use to build it – depleted uranium? But Fuji's XF lenses are exceptionally well and light build and compared to the Canon EF 15mm f2.8 fisheye the Samyang is actually a bit lighter.

The Samyang's aperture and focus rings are rather stiff even when compared to my legacy Olympus OM lenses. But this also gives me the feeling that this lens has a solid build quality and I will most likely get used to it over time. The lens is all manual and has no electronic intelligence that get's passed on to the camera body. That has the big disadvantage that your Exif files will not contain any info about the lens and aperture. Luckily you can add a 8mm custom profile to the Fuji X-Pro 1 and if you activate it before you use the Samyang lens, the Exif will at least show 8mm. But the aperture will always read "f1". And while you're in the Fuji's menus make sure that you activate the "shoot without lens" option, as the Fuji will not know that a lens is attached without electronic feedback from the lens.

Enough talk about the specs and feel, let's see what this lens can do! I went out a few times and used this lens in situations where I think that a fisheye can work its magic.

All images were captured in RAW and processed and converted in LightRoom 4.3 with the "old" Adobe RAW converter. The new converter in version 4.4 could improve the image quality.

And as always click on the image to get the option for a bigger version in my Flickr stream.....