Scoop.it!
The Guggenheim and the Fuji X-Pro 1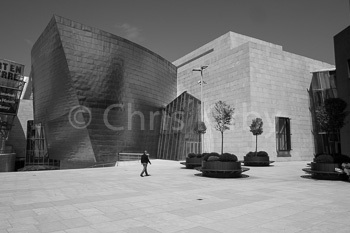 Chris Kirby's insight:
Last weekend, I made a quick flying visit to the Guggenheim Museum in Bilbao. I took with me, a recently purchased Fuji X-Pro 1 complete with a Fujinon 18mm lens.
The building itself is a bit like the Sydney Opera House in concept - all sloping, slanting, interconnecting shapes and all magically forged together out of titanium panels, lime stone and glass. Its lines are beautiful - just like my X-Pro 1.
The Guggenheim is sited alongside the River Nervion on a 32,000 square metre plot right in the heart of the City. Since its opening in 1997 it has helped to completely transform Bilbao from an weary old industrial city into one of the most attractive and eminantly visitable 'art' destinations.
American Frank O. Gehry's imaginative design succeeds in capturing the possiblities of what architecture may become in the 21st century. And inside, the Guggenheim's spacious galleries provide the perfect environment for showcasing some of the world's great modern art.
Unbelievably though - and much to my disspointment - photography is not allowed in the galleries, but that didn't stop me shooting pics 'off the hip' which the X-Pro 1 does with consumate ease - and with hardly a sound. Outside the museum, the 18mm did its stuff - with clear, sharp results. I'm not in any way an architectual photographer but the Fujinon 18mm did the Guggenheim proud. No that's not distortion in some of the pics, the lamposts around the museum really are bent and the buildings do deliberately lean!
All in all, the X-Pro 1 was the perfect companion for me on this trip and I really felt good that I'd left my 'big Cs' at home. I have no gripes with it - there's the odd miss on auto-focus and occassionally my thumb accidentally turns the compensation dial. Having used the camera quite a bit now, my advice to anyone that maybe's struggling to get to grips with it - is simply get out there and use it more often. You soon get to used to finding you way around its operational modes. It's a great camera - with the potential for great results.
Chris Kirby is a British photographer. His work encompasses social documentary photography, reportage and environmental portraiture. For more pics of the Guggenheim Bilbao taken with the Fuji X-Pro 1 click: http://bit.ly/WqoLGl