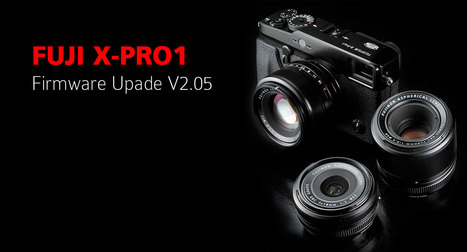 The firmware update Ver.2.05 from Ver.2.04 incorporates the following issue

1.Operability is improved to change settings easier and quicker by "single-hand".
(1)"Focus Frame Selection" option is added to "Fn" (function) button.
(2)One more "Fn" function (No.2) is added to the down key of the "Selector".
In the "Fn BUTTON" on the SHOOTING MENU, selection of "Fn BUTTON" or "SELECTOR" is added. The default setting of the added Fn function (No.2) is "Focus Frame Selection".

2.Function to enable "Command dial" to control aperture setting for XF lens without an aperture ring is added.
This function is for the XF27mmF2.8 and XC16-50mmF3.5-5.6 OIS which don't have an aperture ring. On the Shooting Mode, "APERTURE SETTING" is added and one of "AUTO+MANUAL", "AUTO" and "MANUAL" can be selected.
For detail of how to operate, please refer to the operation manual "Before Using This Product" bundled with above lenses.

<Note>
The "APERTURE SETTING" will be newly appeared, but it is not selectable unless either XF27mmF2.8 or XC16-50mmF3.5-5.6 OIS is attached to a camera.
Via
Thomas Menk