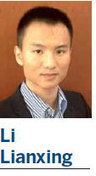 Dearth of language skills means business opportunities go begging
At the New York Forum Africa in Libreville, Gabon, in June, panelists from France, China, Gabon and the Republic of Congo appeared in a discussion session called "Looking to East" that was mediated by Beatrice Marshall, a well-known Kenyan TV presenter.
Three languages needed to be simultaneously interpreted but it turned out that most of the speeches by Chinese panelists were not just lost in translation but lost completely because the African interpreter could not make out what was being said because of the speakers' dialect accents.
Language is often an obstacle for Chinese business people when investing in Africa and elsewhere, so what happened in the Libreville debate was not particularly novel. In this case the frustration was to do with the inability of the Chinese to express themselves in French. Some complained that they could not even order breakfast in English in the hotel and they felt isolated on the streets without a French interpreter.
Those delegates were far from alone in their plight, and many Chinese investors are still hesitant to put their money in Francophone African countries given the unfamiliarity of those regions. When talking about China's presence in Africa, its countries are almost invariably lumped together as though they were one and that China is dealing with an indivisible unit. How wide of the mark that is can be no clearer than when you look at the matter of language.
"We have already tried very hard to learn a foreign language, English, but now it seems to us it's nearly useless, and I don't think I have time to learn another one," said a Chinese entrepreneur who produces sewing machines.
Via
Charles Tiayon