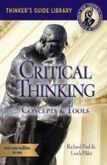 The International Center for the Assessment of Higher Order Thinking (ICAT) was founded to help colleges and universities design cost-effective ways to evaluate students' critical thinking abilities. ICAT provides assessment tools which:
evaluate students' critical thinking skills.
evaluate course designs.
The resulting assessment includes a profile of students' reasoning abilities that can be effectively used not only as a benchmark against which progress can be measured, but also as a practical guide for critical thinking instruction.