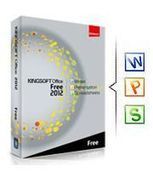 Kingsoft Office Suite Free 2012 offers much of the power of Word, Excel, and PowerPoint--for none of the cost.
About a week ago I featured Kingsoft Office Suite Professional 2012 in a bonus deal. Since then I've been test-driving the software on an old laptop. And you know what? I like it!
Until last week, I'd never heard of Kingsoft or this product. I had, however, tried all the usual freebie Microsoft Office alternatives: OpenOffice, LibreOffice, Lotus Symphony, Google Docs, and so on.
The free version is extremely capable, offering robust counterparts to Word, Excel, and PowerPoint--and file compatibility with all three. Also, you don't have to take my word for it; find out why CNET staffers rated Kingsoft Office 2012 4.5 stars out of 5
Kingsoft Office Suite Free 2012 : http://goo.gl/i42l0
Via
173 Sud