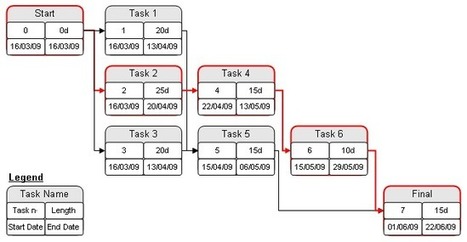 The PERT method –acronym of Program Evaluation and Review Technique-, is a project management tool which allows managing coordination within a project. The output is a network model of tasks and links of a given project.
This network also called PERT chart allows to identify the critical path of a project and thus to focus the project's efforts on critical tasks. The critical path is the chain of tasks which total duration is the project's longest.
Invented in the end of the 1950s by the US Navy to coordinate tasks of POLARIS project (realization of nuclear warheads missiles), this method allowed to coordinate several thousand subcontractors, reducing costs and lead-time.