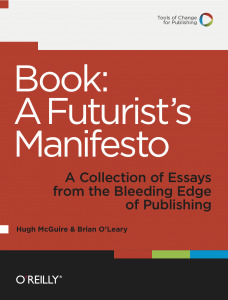 PressBooks is a simple book publishing tool that makes it easy for authors and editorial teams to generate clean, well-formatted books in multiple outputs: .epub, print-ready PDF, InDesign-ready XML, and of course HTML. We're in public beta, meaning PressBooks is good enough for professional book production, but we're still improving things.
You can see what PressBooks does by checking out this short demo slideshow.
The first book published using the PressBooks platform is Book: A Futurist's Manifesto, published by O'Reilly Media, and co-edited by PressBooks founder Hugh McGuire and publishing thinker, Brian O'Leary. You can buy the ebook, or read it online for free.