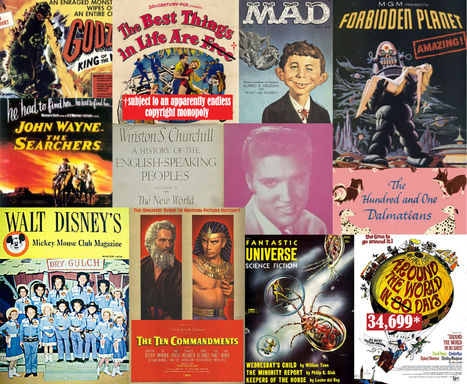 Current US law extends copyright for 70 years after the date of the author's death, and corporate "works-for-hire" are copyrighted for 95 years after publication. But prior to the 1976 Copyright Act (which became effective in 1978), the maximum copyright term was 56 years – an initial term of 28 years, renewable for another 28 years. Under those laws, works published in 1956 would enter the public domain on January 1, 2013, where they would be "free as the air to common use." Under current copyright law, we'll have to wait until 2052.1 And no published works will enter our public domain until 2019. (The law in the EU is different – thousands of works from authors who died in 1942 are entering their public domain on January 1.) Even more shockingly, the Supreme Court ruled in 2012 that Congress can take back works from the public domain. Could Shakespeare, Plato, or Mozart be pulled back into copyright? The Supreme Court gave no reason to think that they could not be.
A Copyrighted History of the English-Speaking Peoples
What books would be entering the public domain if we had the pre-1978 copyright laws? You might recognize some of the titles below.
You would be free to translate these books into other languages, create Braille or audio versions for visually impaired readers (if you think that publishers wouldn't object to this, you would be wrong), or adapt them for film. You could read them online or buy cheaper print editions, because others were free to republish them. (Empirical studies have shown that public domain books are less expensive, available in more editions, and more likely to be in print.) Imagine a digital Library of Alexandria containing all of the world's books from 1956 and earlier, where, thanks to technology, you can search, link, index, annotate, copy and paste. Not so fast … instead of seeing these works enter the public domain in 2013, we will have to wait until 2052.
The same is true for some of the great periodicals from 1956. These include the first issue of MADmagazine with Alfred E. Neuman prominently featured on the cover, as well as the debut issues ofNew Scientist, teen magazines such as Walt Disney's Mickey Mouse Club Magazine, and the short-lived science fiction magazines Satellite, Science Fiction Adventures, and Super Science Fiction.