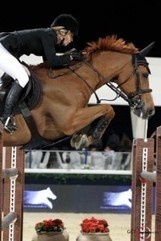 Edwina writes: "During the Global Champions Tour in Monaco I will present my book. The biography is written by Virginie Coupérie with fun cartoons by JUL. The book is based on many, many interviews we had the last months. And I'm proud about the result.
"The book will officially be published on Friday June 29th in Monaco at the show at 19.30 hrs. Off course there will be a signing session. At first we launch the French version. In a couple of weeks -and before the start of the London Olympics - we will publish the English version."
@FranJurga writes: This is classic Edwina. It's been a long time since she lived in Australia, obviously: the first edition of her autobiography is in French!
Edwina's husband is Dutch showjumping impresario Jan Tops, and the Australian superstar is often seen hobnobing with Euro royalty types. The launch will be in Monaco, she's sponsored by Italian dream clothier Gucci...and she's headed to London for the Olympics.
Can you get any more international than that?
Edwina is definitely on the glamour circuit--I'd wager that her book will be widely read.
Click on the top headline to go this article.
Subscribe to Fran Jurga's ScoopIt news feed for the 2012 Olympic horse sport events. Choose from a daily email digest, an RSS feed, or view the feed in rich visual "magazine" format anytime at http://www.scoop.it/t/franjurga
Plan to read original content and feature stories on Fran Jurga's Discover London Equestrian Olympics blog.