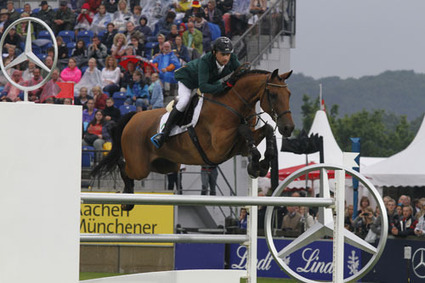 Denis Lynch, recently named to Ireland's showjumping squad for the London Olympic Games, has made a statement regarding the disqualification (for hypersensitivity) of his horse Lantinus at CHIO Aachen.
@FranJurga writes: Denis Lynch's status on the Irish team for London hangs in limbo this morning as this situation unfolds. Lynch contends that heat detected in the horse's limb during the hypersensitivity exam was simply the horse's natural inflammation response to some small cuts incurred in the past few days.
(Click on the headline to read the full article)
This is reminescent of the hypersensitivity situation that US rider McLain Ward experienced with Sapphire at a World Cup event in 2010: http://ow.ly/c4Xvt
Subscribe to Fran Jurga's ScoopIt news feed for the 2012 Olympic horse sport events. Choose from a daily email digest, an RSS feed, or view the feed in rich visual "magazine" format anytime at http://www.scoop.it/t/franjurga
Plan to read original content and feature stories on Fran Jurga's Discover London Equestrian Olympics blog.