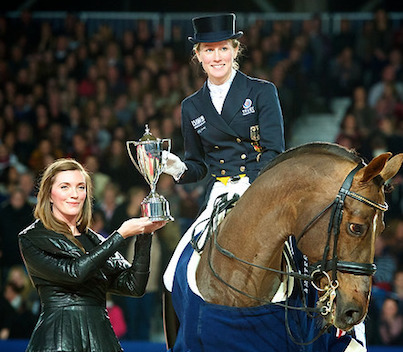 Germany's Helen Langehanenberg and Damon Hill NRW (86.025) pipped defending double-champions Adelinde Cornelissen and Jerich Parzival (85.425) at the sixth leg of the Reem Acra FEI World Cup™ Dressage Western European League in Amsterdam (NED) today.
There were eight Dutch competitors amongst the start-list of 15, but Germany claimed two of the top-three placings when Isabell Werth and Don Johnson slotted into third ahead of Italy's Valentina Truppa and Fixdesign Eremo del Castegno in fourth.
Langehanenberg's form in recent months had suggested that it would not be long before she and her lovely stallion would find the key to finishing ahead of the Dutch duo who have dominated the prestigious indoor series over the last few years.
At last year's Final in 's-Hertogenbosch (NED) where Cornelissen came out on top for the second successive season, Ground Jury President, Great Britain's Stephen Clarke, told the German rider that she had only a little more polish to find in order to improve from runner-up position, and Langehenanberg has worked hard to bridge that gap ever since.
At the World Dressage Masters in Mechelen, Belgium last month she beat Cornelissen in the Grand Prix only to fall victim to a problem with her music, which stopped during her Freestyle, but it was clear she was now a real threat. Today she showed that result was no fluke as she produced a sparkling test on an afternoon when many others failed to show their very best in the electric atmosphere of the Amsterdam Rai arena.
Note: this is an excerpt from an excellent report from Amsterdam by Louise Parkes for the FEI.
Result: 1. Damon Hill NRW (Helen Langehanenberg) GER 86.025; 2, Jerich Parzival (Adelinde Cornelissen) NED 85.425; 3, Don Johnson FRH (Isabell Werth) GER 82.050; 4, Fixdesign Eremo del Castegno (Valentina Truppa) ITA 80.775; 5, Glock's Romanov (Edward Gal) NED 79.200; 6, Santana (Minna Telde) SWE 77.700; 7, Glock's Tango (Hans Peter Minderhoud) NED 76.225; 8, Toots (Imke Schellekens-Bartels) NED 75.300; 9, Luxform's Popeye (Diederik van Silfhout) NED 72.075; 10, Biggles (Kristian von Krusenstierna) SWE 71.350; 11, BMC Miciano (Marlies van Baalen) NED 71.275;12, Weltzin (Hannah Biggs) GBR 69.050; 13, Uzzo (Patrick van der Meer) NED 68.300; 14, Donnerfee (Claudia Fassaert) BEL 67.875; 15, Unlimited (Stephanie Peters) NED Ret.
Full results at www.jumpingamsterdam.nl
Reem Acra FEI World Cup™ Dressage 2012/2013
Standings after Round 6 at Amsterdam (NED):
1.Valentina Truppa ITA-67
2.Edward Gal NED-55
3.Kristina Sprehe GER-51
4.Minna Telde SWE-49
5.Helen Langehanenberg GER-46
5.Tinne Vilhelmson-Silfven SWE-46
7.Marcela Krinke Susmelj SUI-44
8.Isabell Werth GER-34
8.Sidsel Johansen DEN-34
10.Imke Schellekens-Bartels-32
11.Marlies van Baalen NED-31
12.Anna Kasprzak DEN-30
12.Patrik Kittel SWE-30
14.Pia Fortmuller CAN-28
15.Lyndal Oatley AUS-23
16.Anabel Balkenhol GER-22
16.Karin Kosak AUT -22
18.Charlotte Dujardin GBR-20
18.Stefan Peter AUT-20
20.Hans Peter Minderhoud NED-19
20.Patrick van der Meer NED-19