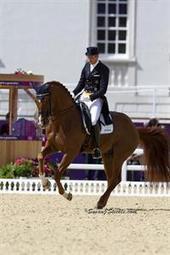 The line-up for the World Dressage Masters (WDM) Palm Beach, presented by Wellington Classic Dressage, will feature a star-studded cast of riders and horses for the January 23-27 event at the Palm Beach County Jim Brandon Equestrian Center.
The riders confirmed their participation and the horses are arriving in Florida to compete head-to-head for their share of over €100,000 (EUR), or about $131,850 (USD), in prize money.
@FranJurga writes: There's much more good stuff buried deeper in this article, so read it all!
Peters and co. will indeed represent the USA, but they will do it against some of the riders who finished ahead of and behind them in August's 2012 Olympic Dressage in London, including Tinne Vilhelmsson Silfven and Patrick Kittel from Sweden, Edward Gal and Hans Peter Minderhoud from The Netherlands, Lars Petersen and Lisbeth Seierskilde for Denmark, David Marcus and Jacqueline Brooks for Canada, Silvia Rizzo for Italy, and Nicholas Fyffe for Australia.
Click on the bold headline or image to read the full article.