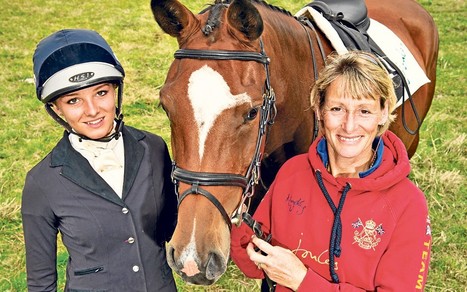 Victoria Lambert meets legendary horsewoman Mary King, who won a silver medal at the London Olympics, and whose daughter Emily is set to match her mother's prowess.
As the nights draw in and winter makes its chilly return, memories of glorious Olympic sunny days at Greenwich are getting harder to conjure up – even for the medallists.
Three months ago, three-day eventer Mary King was dazzling us on her way to a silver medal at London 2012 on Imperial Cavalier.

But now, the glamour and stardust tidied away, she is more likely to be breaking ice on the horses' water buckets in the pre-dawn gloom.

Not that she would have it any other way.
@FranJurga writes: These articles are getting harder and harder to find, but here's a lengthy interview with champion eventer Mary King of Great Britain. So many articles these days are short and sweet and leave you wanting more. Cheers to The Telegraph for letting Victoria Lambert stretch her descriptive prose so we feel we get to know Mary King's children, Freddie and Emily, a bit.
And Mary? Yes, and Mary too, but we feel like we've known her all along. But a good article like this just brings us that much closer...can't you see those Olympic medals hanging on wall pegs on the way into the loo?

Follow Fran Jurga for equestrian sport and horse health/welfare news:

On Twitter: @FranJurga

On Facebook: www.facebook.com/franjurga

The Jurga Report blog for EQUUS Magazine: http://blogs.equisearch.com/horsehealth

Fran Jurga's Hoof Blog: http://www.hoofcare.blogspot.com
How ScoopIt works: Click on the big bold headline or photo to go to the full story on the Telegraph's web site.