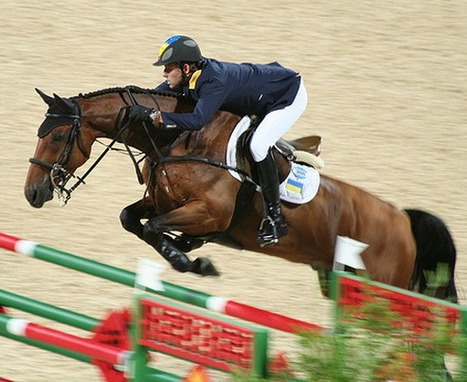 Olympic showjumper Bjorn Nagel has decided to leave the Ukranian flag behind and return to riding as a German.
For the past six years Nagel rode for the Ukraine in Nations' Cups, European Championships, World Championships and the Olympic Games in Hong Kong and London.
"It was a great time and it was a lot of fun for me," said the 34-year-old rider.
As of October 23rd, Nagel, who is from Friedrichskoog, Germany, rides under the German flag again.
"We have not parted ways on bad terms. It was a very interesting six years with Alexander Onyshenko and the team, but now there are new goals. People are continually developing and have to set new priorities," Nagel explained.
The formalities have already been completed at the FEI.
According to the rules, Bjorn Nagel will be allowed to ride at international competitions, but for the next two years he won't be able to compete in World Cups, Nations' Cups or Championships for Germany.
"That is the international rule," emphasized the rider. "With the respective results I will have the same opportunity as everybody else to start at international shows. At the moment my horses are a bit young for that, but of course I would like to compete again at the international level in the near future."
Photo: Bjorn Nagel rode Magic Bengtsson at the 2008 Olympics for Ukraine. Steve Fleischer image.
This news item was produced for Fran Jurga's Equestrian Sport News stream using the "ScoopIt" news-sharing mini-blog app.
Read a digest of equestrian sport news at this link: http://www.scoop.it/t/franjurga