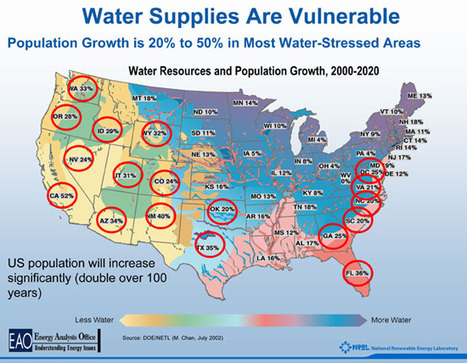 The continued security and economic health of the United States depends on a sustainable supply of both energy and water.
U.S. Energy Sustainability - The Missing Piece
"U.S. energy sustainability is a complex puzzle of interlocking parts. ... However, one critical component of the R&D mix is missing - water. .."
The Energy-Water Connection
"Energy production requires a reliable, abundant, and predictable source of water, a resource that is already in short supply throughout much of the U.S. and the world. The electricity industry is second only to agriculture as the largest user of water in the United States. Electricity production from fossil fuels and nuclear energy requires 190,000 million gallons of water per day, accounting for 39% of all freshwater withdrawals in the nation, with 71% of that going to fossil-fuel electricity generation alone.1 Coal, the most abundant fossil fuel, currently accounts for 52% of U.S. electricity generation, and each kWh generated from coal requires withdrawal of 25 gallons of water. That means U.S. citizens may indirectly depend upon as much water turning on the lights and running appliances as they directly use taking showers and watering lawns. According to the 2001 National Energy Policy, our growing population and economy will require 393,000 MW of new generating capacity (or 1,300 to 1,900 new power plants-more than one built each week) by the year 2020, putting further strain on the nation's water resources."
Via
Duane Tilden
,
SustainOurEarth