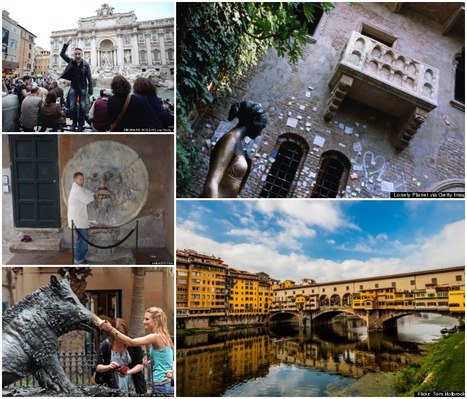 There's something hallowed about visiting a place of legend. To think that thousands of people over dozens of centuries have kissed the same stone, or climbed the same bell tower, or petted the same bronze boar-turned-pig as you, hoping for their own wishes to come true, brings a deeper meaning to travel.
Invite a little luck -- and a lot of superstition -- into your trip at these places where myth meets mystery.
Thousands of tourists throw coins (with their right hands, over their left shoulders) into the Trevi Fountain every day with the hope of returning to Rome. Their tosses totaled over $3,000 per day in 2012... Il Porcellino -- aka "the piglet" -- is a bronze boar that lives in Florence's open-air market. Feed him a coin for good luck, and then rub his snout to ensure a return to Florence. Casa di Giulietta is supposedly the Shakespeare-inspired courtyard home to Romeo's Juliet. If you write a letter to the star-crossed lover and post it on the wall beneath her balcony, she'll help you in love (an official response, though, might come from a club of secretaries who read and personally respond to as many letters as they can).The Basilica of Saint Mary in Cosmedin, a little church in Rome, is home to the Mouth of Truth. If you tell a lie with your hand in his mouth, this stone creature will bite your hand off...Want love that lasts forever? Secure a lock to Ponte Vecchio bridge in Florence and throw the key into the river below.
Via
Mariano Pallottini